---
If you are not already a subscriber, you are welcome to enter your email address here to sign up to receive the Space History newsletter on a daily basis. Under no circumstances will we release your legitimate email address entered here to outside persons or organizations, and it will only be used for mailing the specific information you have requested.
| | |
| --- | --- |
| Enter your email address here: | |
Unsubscribe instructions are included in every newsletter issue in case you decide you no longer wish to receive it.
Note: We record the IP address from which subscriptions are entered to help prevent SPAM abuses.
---
Race To Space
Someone will win the prize...
... but at what cost?
Visit RaceToSpaceProject.com to find out more!
---
1496
Leonardo da Vinci unsuccessfully tested a flying machine with a rotor powered by four men, the body counter-rotated almost as much as the rotor rotated.
ref: www.edn.com
1641
Died, Jeremiah Horrocks, English astronomical prodigy who made the first observation of a transit of Venus.
While studying at the University of Cambridge, Jeremiah Horrocks (1618 - 3 January 1641) became familiar with the works of Johannes Kepler, Tycho Brahe, and others. Horrocks was convinced that Lansberg's tables were inaccurate when Kepler predicted that a near-miss of a transit of Venus would occur in 1639. Horrocks believed that the transit would indeed occur, having made his own observations of Venus for years.

Horrocks focused the image of the Sun through a simple telescope onto a piece of card, where the image could be safely observed. From his location in Much Hoole, Lancashire, he calculated that the transit was to begin at approximately 3:00 pm on 24 November 1639 (Julian calendar, 4 December on the Gregorian calendar). The weather was cloudy, but he first observed the tiny black shadow of Venus crossing the Sun on the card at about 3:15pm, and observed for half an hour until sunset. The 1639 transit was also observed by his friend and correspondent, William Crabtree, from his home in Salford.
ref: en.wikipedia.org
1825
The first US engineering college opened, the Rensselaer School in Troy, New York, which evolved into Rensselaer Polytechnic Institute (RPI) and is described as the oldest technological university in the English-speaking world.
ref: en.wikipedia.org
1888
The 36 inch (91 cm) refracting telescope at Lick Observatory saw first light. It was the largest telescope in the world at the time.
ref: en.wikipedia.org
1888
The modern drinking straw was patented by Marvin C. Stone of Washington, D.C. In the weightless environment of current spacecraft, drinking through a straw is necessary where there's no gravity to keep liquids in open containers.
ref: en.wikipedia.org
1903
Died, James Wimshurst, British designer, inventor (electricstatic generator, vacuum pump)
ref: en.wikipedia.org
1908
M. Wolf discovered asteroid #3202.
1918
M. Wolf discovered asteroid #887 Alinda.
1925
Died, N. Camille Flammarion, Mars researcher, popularizer of astronomy
ref: en.wikipedia.org
1957
The Hamilton Watch Company introduced the first electric watch, the Ventura, to an audience of over 120 reporters who had come to its inaugural press conference.
ref: www.wired.com
1976
Felix Aguilar Observatory discovered asteroids #2381 Landi and #2490 Bussolini.
1981
E. Bowell discovered asteroids #2410 Morrison and #3267 Glo; and N. G. Thomas discovered asteroid #2684 Douglas.
1999 20:21:10 GMT
NASA launched the "ill fated" (unsuccessful) Mars Polar Lander mission toward Mars.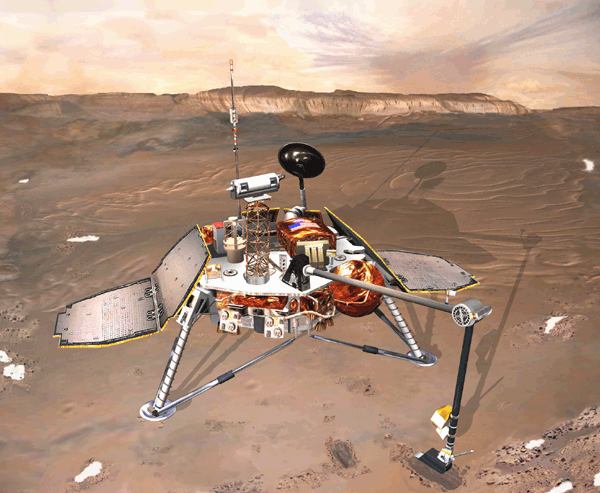 Mars Polar Lander, NASA illustration
Source: NSSDCA Master Catalog
The Mars Polar Lander spacecraft was launched 3 January 1999, one of two separately launched vehicles that were to comprise the Mars Surveyor '98 program: the Mars Climate Orbiter (formerly the Mars Surveyor '98 Orbiter) and the Mars Polar Lander (formerly the Mars Surveyor '98 Lander). The two missions were designed to study the Martian weather, climate, and water and carbon dioxide budget, in order to understand the reservoirs, behavior, and atmospheric role of volatiles and to search for evidence of long-term and episodic climate changes. The Mars Polar Lander also carried the Deep Space 2 (DS2) probes, a New Millenium mission consisting of two probes which were to penetrate the surface of Mars near the south polar layered terrain and send back data on the sub-surface properties. The last telemetry from Mars Polar Lander was sent just prior to atmospheric entry on 3 December 1999. No further signals have been received from the lander, the cause of this loss of communication "is not known."
ref: nssdc.gsfc.nasa.gov
2017
Died, Igor Petrovich Volk (at Varna, Bulgaria), Colonel Russian AF Reserve, Soviet cosmonaut (Soyuz T-12; almost 11d 19.25h in spaceflight)
ref: www.spacefacts.de
---
We are going to run out of oil!
Visit SpacePowerNow.org to help fix the problem.
SpacePowerNow.org - For Human Survival
---
Please help support our efforts by shopping from our sponsors.
In affiliation with AllPosters.com
---

This newsletter and its contents are
Copyright © 2006-2023 by The L5 Development Group.  All rights reserved.
 - Publication, in part or in whole, requires previous written permission.
 - Academic or personal-use citations must refer to http://L5Development.com as their source.
Thank you for your cooperation.

---
Space History Department
Resources
The L5 Development Group Home Page
The L5 Development Group Keyword Access System
---
Space History for January 3 / Webmaster / Script last modified August 23, 2018 @ 6:05 am
Copyright © 2006-2023 by The L5 Development Group. All rights reserved. Hosted by FKEinternet