---
If you are not already a subscriber, you are welcome to enter your email address here to sign up to receive the Space History newsletter on a daily basis. Under no circumstances will we release your legitimate email address entered here to outside persons or organizations, and it will only be used for mailing the specific information you have requested.
| | |
| --- | --- |
| Enter your email address here: | |
Unsubscribe instructions are included in every newsletter issue in case you decide you no longer wish to receive it.
Note: We record the IP address from which subscriptions are entered to help prevent SPAM abuses.
---
Race To Space
Someone will win the prize...
... but at what cost?
Visit RaceToSpaceProject.com to find out more!
---
1745
Born, Jacques Etienne Montgolfier, built the first practical hot air balloon in 1783 with his brother Joseph Michel
The Montgolfier brothers, Joseph Michel Montgolfier (26 August 1740 - 26 June 1810) and Jacques Etienne Montgolfier (6 January 1745 - 2 August 1799), built the first practical hot-air balloon (1783).
ref: en.wikipedia.org
1838
Samuel Morse first successfully demonstrated his electrical telegraph, the design became the first commercially successful telegraph system.
ref: www.history.com
1905
Born, Eric Frank Russell, science fiction author (Hugo, Deep Space)
ref: en.wikipedia.org
1914
J. Lagrula discovered asteroid #775 Lumiere.
1933
Born, Oleg Makarov (at Udomlya, Kalinin Oblast, Russian SFSR), Soviet cosmonaut (Soyuz 12, Salyut 6 EP-1, Salyut 6 EO-5, survived the first manned spaceflight abort during launch, Soyuz 18-1; over 20d 17.25h total time in spaceflight) (deceased)


Cosmonauts Oleg Makarov (right) and Vladimir Dzhanibekov portrayed on a 1979 USSR postage stamp
Source: Wikipedia
Oleg Grigorievich Makarov (6 January 1933 - 28 May 2003) was a Russian cosmonaut. He was selected for cosmonaut training in 1966. At first he did work on the Soviet Lunar program, and was training with Aleksei Leonov for a circumlunar flight. However after the success of Apollo 8 the flight was cancelled. His first spaceflight was Soyuz 12 in 1973, a test flight to check the changes made to the Soyuz spacecraft after the Soyuz 11 disaster. His second flight was Soyuz 18a, aborted shortly after launch with an emergency landing in north-west China. With his third launch on Soyuz 27 he flew to space station Salyut 6, and landed 5 days later with the Soyuz 26 spacecraft. His last mission was Soyuz T-3, during which several repairs on Salyut 6 were done. He was also in backup crews for the flight Soyuz 17 and Soyuz T-2. Altogether he spent 20 days 17 hours 44 minutes in space. After his final spaceflight he continued to work for Energia, both in the Mir space station program as well as the Energia-Buran development.

He died in Moscow, Russia, on 28 May 2003 from a heart attack.
ref: www.spacefacts.de
1938
G. Kulin discovered asteroids #1444 Pannonia, #1445 Konkolya and #3427.
1942
The Pan American Airways "Pacific Clipper" arrived in New York, completing (unplanned) the first round-the-world trip by a commercial airplane, due in part to the Japanese attack on Pearl Harbor on 7 December 1941.
ref: airandspace.si.edu
1948
Born, Guy S. Gardner (at Alta Vista, Virgina, USA), Colonel USAF, NASA astronaut (STS-27, STS-35; over 13d 8h total time in spaceflight)


Astronaut Guy S. Gardner, NASA photo
Source: Wikipedia
ref: en.wikipedia.org
1957
Born, C. Michael Foale PhD CBE (at Louth, England), NASA astronaut (STS 45, STS 56, STS 63, Mir 23/24, STS 103, ISS 8; 373d 18.25h total time in spaceflight)


Official portrait of C. Michael Foale, NASA photo (13 May 2013)
Source: Wikipedia (spaceflight.nasa.gov killed 25 Feb 2021)
ref: en.wikipedia.org
1968 06:30:00 GMT
NASA Surveyor 7, the last of the series, was launched for a soft landing on Moon.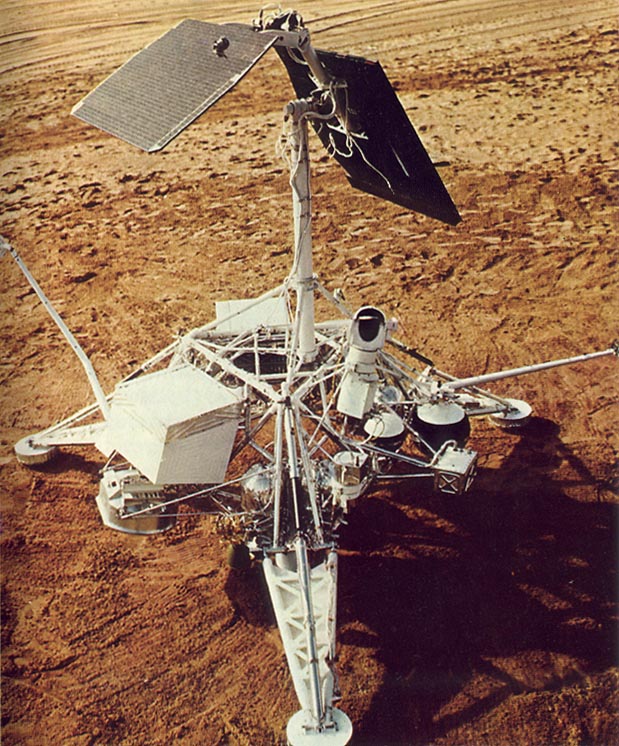 Surveyor Moon probe sitting on a beach, NASA photo
Source: NSSDCA Master Catalog
Surveyor 7, launched 6 January 1968, was the fifth and final spacecraft of the Surveyor series to achieve a Lunar soft landing. The mission objectives were to: (1) perform a Lunar soft landing in an area well removed from the maria to provide a type of terrain photography and Lunar sample significantly different from those of other Surveyor missions; (2) obtain postlanding television pictures; (3) determine the relative abundances of chemical elements; (4) manipulate the Lunar material; (5) obtain touchdown dynamics data; and, (6) obtain thermal and radar reflectivity data. This spacecraft was similar in design to the previous Surveyors, but it carried more scientific equipment including a television camera with polarizing filters, an alpha-scattering instrument, a surface sampler, bar magnets on two footpads, two horseshoe magnets on the surface scoop, and auxiliary mirrors. Of the auxiliary mirrors, three were used to observe areas below the spacecraft, one to provide stereoscopic views of the surface sampler area, and seven to show Lunar material deposited on the spacecraft. The spacecraft landed on the Lunar surface on 10 January 1968, on the outer rim of the crater Tycho. Operations of the spacecraft began shortly after the soft landing and were terminated on 26 January 1968, 80 hours after sunset. Operations on the second Lunar day occurred from 12-21 February 1968. The mission objectives were fully satisfied by the spacecraft operations.
ref: nssdc.gsfc.nasa.gov
1987
Astronomers at the University of California reported the first sighting of the birth of a galaxy, 12 billion lightyears away.
ref: apnews.com
1993
Jean Mueller discovered comet Mueller/1993a.
---
We are going to run out of oil!
Visit SpacePowerNow.org to help fix the problem.
SpacePowerNow.org - For Human Survival
---
---

This newsletter and its contents are
Copyright © 2006-2023 by The L5 Development Group.  All rights reserved.
 - Publication, in part or in whole, requires previous written permission.
 - Academic or personal-use citations must refer to http://L5Development.com as their source.
Thank you for your cooperation.

---
Space History Department
Resources
The L5 Development Group Home Page
The L5 Development Group Keyword Access System
---
Space History for January 6 / Webmaster / Script last modified August 23, 2018 @ 6:05 am
Copyright © 2006-2023 by The L5 Development Group. All rights reserved. Hosted by FKEinternet