---
If you are not already a subscriber, you are welcome to enter your email address here to sign up to receive the Space History newsletter on a daily basis. Under no circumstances will we release your legitimate email address entered here to outside persons or organizations, and it will only be used for mailing the specific information you have requested.
| | |
| --- | --- |
| Enter your email address here: | |
Unsubscribe instructions are included in every newsletter issue in case you decide you no longer wish to receive it.
Note: We record the IP address from which subscriptions are entered to help prevent SPAM abuses.
---
Race To Space
Someone will win the prize...
... but at what cost?
Visit RaceToSpaceProject.com to find out more!
---
1892
Died, John Couch Adams, English mathematician and astronomer (predicted the existence and position of Neptune using only mathematics)
ref: starchild.gsfc.nasa.gov
1893
Auguste Charlois discovered asteroid #356 Liguria.
1901
Died, Elisha Gray, American inventor, invented the telephone about the same time as Alexander Graham Bell, considered the father of the modern music synthesizer, received over 70 patents for inventions
ref: en.wikipedia.org
1908
Born, Bengt Stromgren, astrophysicist, Bruce Medal 1959
Bengt Georg Daniel Stromgren (21 January 1908 - 4 July 1987) was a Danish astronomer and astrophysicist who did important research in stellar structure in the 1930s but is best known for his work on ionized gas clouds - H II regions - around hot stars. He surveyed H II regions and found relations between the gas density, the luminosity of the star, and the size of the Stromgren sphere of ionized hydrogen around it.

See also Wikipedia
ref: phys-astro.sonoma.edu
1925
K. Reinmuth discovered asteroid #1382 Gerti.
1933
The Institute of Aeronautical Sciences (IAS) held its Founders Meeting at Columbia University under Jerome C. Hunsaker, president, and Lester D. Gardner.
ref: www.hq.nasa.gov
1941
Dow Chemical company's plant for extraction of magnesium from seawater came online at Freeport, Texas, the first commercial operation of its kind, and the first time that man had mined the ocean for a metal.
ref: books.google.com
1950
Born, Joseph R. Tanner (at Danville, Illinois, USA), NASA astronaut (STS 66, STS 82, STS 97, STS 115; nearly 43d 13.25h total time in spaceflight)


Astronaut Joseph R. (Joe) Tanner, STS-115 mission specialist
NASA photo (21 December 2001)
Source: Wikipedia (spaceflight.nasa.gov killed 25 Feb 2021)
ref: en.wikipedia.org
1953
Born, Paul G. Allen, entrepreneur (Microsoft, Mojave Aerospace Ventures (SpaceShipOne))
ref: en.wikipedia.org
1960
NASA launched Little Joe 1B carrying the Rhesus monkey "Miss Sam" in a maximum dynamic pressure abort test to evaluate the Mercury launch and abort system. The 8 minute 35 second suborbital test flight to 16 km altitude was successful.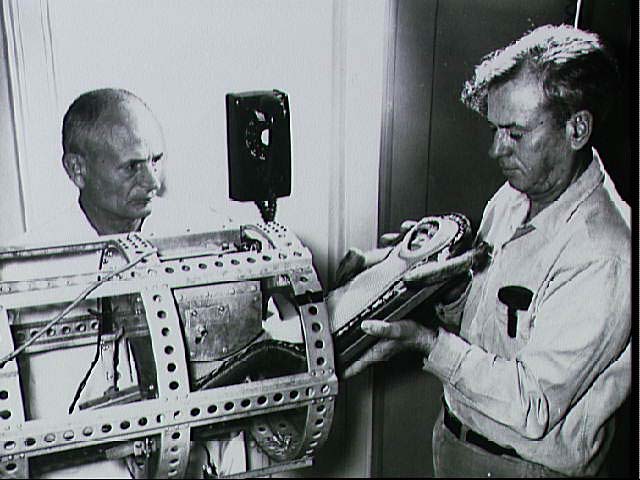 Rhesus monkey "Miss Sam" being prepared for space flight
Source: NSSDCA Master Catalog
ref: nssdc.gsfc.nasa.gov
1976 11:40:00 GMT
The first Concordes with commercial passengers simultaneously took off from London's Heathrow and the Paris Orly airports.
ref: web.archive.org
2004
NASA's MER-A (the Mars Rover Spirit) ceased communication with mission control. (The problem was determined to be with the Flash Memory management and fixed remotely from Earth on 6 February 2004.)
ref: web.archive.org
---
We are going to run out of oil!
Visit SpacePowerNow.org to help fix the problem.
SpacePowerNow.org - For Human Survival
---
Please help support our efforts by shopping from our sponsors.
In affiliation with AllPosters.com
---

This newsletter and its contents are
Copyright © 2006-2023 by The L5 Development Group.  All rights reserved.
 - Publication, in part or in whole, requires previous written permission.
 - Academic or personal-use citations must refer to http://L5Development.com as their source.
Thank you for your cooperation.

---
Space History Department
Resources
The L5 Development Group Home Page
The L5 Development Group Keyword Access System
---
Space History for January 21 / Webmaster / Script last modified August 23, 2018 @ 6:05 am
Copyright © 2006-2023 by The L5 Development Group. All rights reserved. Hosted by FKEinternet