---
If you are not already a subscriber, you are welcome to enter your email address here to sign up to receive the Space History newsletter on a daily basis. Under no circumstances will we release your legitimate email address entered here to outside persons or organizations, and it will only be used for mailing the specific information you have requested.
| | |
| --- | --- |
| Enter your email address here: | |
Unsubscribe instructions are included in every newsletter issue in case you decide you no longer wish to receive it.
Note: We record the IP address from which subscriptions are entered to help prevent SPAM abuses.
---
Race To Space
Someone will win the prize...
... but at what cost?
Visit RaceToSpaceProject.com to find out more!
---
1749
Born, Pierre Simon de Laplace, mathematician, astronomer
ref: en.wikipedia.org
1840
Dr. J. W. Draper of New York took the first detailed photograph (daguerrotype) of the full Moon.


First detailed photograph of the full Moon
23 March 1840, by Dr. J. W. Draper
Source: Wikipedia
ref: time.com
1903
The Wright Brothers applied for a patent on their "flying-machine invention" of the first successful airplane, after much hard work.
ref: patents.google.com
1908
Born, Arkhip Mikhailovich Lyulka, Russian Chief Designer and General Designer 1946-1981 of OKB-165, specialized in cryogenic engines for the N1
ref: en.wikipedia.org
1908
M. Wolf discovered asteroid #659 Nestor.
1912
Born, Wernher Von Braun (at Wiersitz, Germany), German American engineer, leader of the German Rocket Team that developed the world's first ballistic missile, and later the Saturn rockets that took America to the Moon


Dr. Wernher von Braun in his office at MSFC (1 May 1964)
NASA Photo ID: MSFC-6407244
Source: Wikipedia
ref: en.wikipedia.org
1920
J. Palisa discovered asteroid #932 Hooveria.
1933
S. Arend discovered asteroids #1262 Sniadeckia, #1263 Varsavia and #1348 Michel; and E. Delporte discovered asteroids #1261 Legia, #1329 Eliane and #2236 Austrasia.
1938
Y. Vaisala discovered asteroid #1492 Oppolzer.
1939
L. Oterma discovered asteroid #1504 Lappeenranta.
1942
K. Reinmuth discovered asteroids #1850 Kohoutek and #1950 Wempe.
1950
E. L. Johnson discovered asteroid #2546.
1960
The USAF's Explorer (S-46) failed to reach Earth orbit.
Explorer (S-46) was launched 23 March 1960 using a Juno 2 rocket. Its mission was to analyze electron and proton radiation energies in a highly elliptical orbit. Telemetry was lost shortly after the first stage burnout and one of the upper stages failed to fire. The spacecraft did not achieve orbit.
ref: nssdc.gsfc.nasa.gov
1961
Died (low pressure room fire), Valentin V. Bondarenko (at Moscow, Russian SFSR), cosmonaut candidate
ref: www.spacefacts.de
1965 14:24:00 GMT
NASA launched Gemini 3 ("Molly Brown") on a Titan booseter, carrying Gus Grissom and John Young who performed the first piloted orbital maneuvers. Grissom also became the first man to make a second space flight.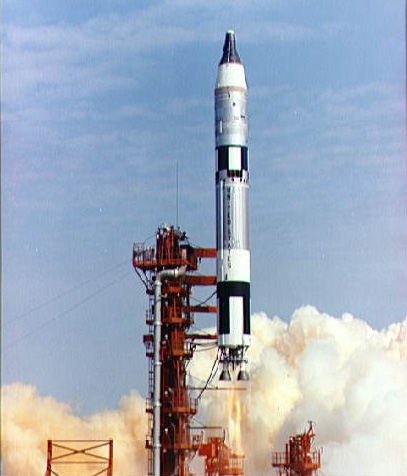 Gemini 3 lifting off from Cape Kennedy, NASA photo
Source: NSSDCA Master Catalog
Gemini 3 was the first crewed Earth orbiting spacecraft of the Gemini series. Launched 23 March 1965, it was piloted by astronauts Virgil "Gus" Grissom and John Young, with the primary objective of demonstrating the crewed qualifications of the Gemini spacecraft including evaluation of the two-man Gemini design, the worldwide tracking network, the orbit attitude and maneuver system (OAMS), the control of reentry flight path and landing point, spacecraft systems, and spacecraft recovery. Secondary objectives included evaluation of flight crew equipment and effects of low level launch vehicle oscillations (POGO) on the crew, performaning three experimants, and obtaining photographic coverage from orbit.

Gemini 3 was launched from Complex 19, and inserted 5 minutes 54 seconds later into a 161.2 x 224.2 km (87 x 121 nautical mile) orbit with a period of 88.3 minutes. At the end of the first orbit, Grissom effected the first orbital maneuver, which lowered the orbit to a near-circular 158 x 169 kms. On the second orbit, Grissom altered the spacecraft inclination by 0.02 degrees. Near the end of the third orbit, at 4:21:23 ground elapsed time (GET), the perigee was lowered to 84 km to allow the orbit to decay naturally in case of retrorocket failure. Reentry began at the end of the third orbit and was manually controlled with retrofire at 4:33:23 GET (1:57:23 p.m. EST). At an altitude of 90 km about 7 kg of water were injected into the ionized plasma sheath resulting in improved communications during the blackout period.

Splashdown occurred in the Atlantic in the vicinity of Grand Turk Island, at 22.43 N, 70.85 W, at 4:52:31 GET (2:16:31 p.m. EST). Due to less-than-expected spacecraft lift during reentry, the spacecraft landed 111 km short of the target point. Both astronauts became seasick, removed their suits, and left the spacecraft at about 3:00 p.m. EST. They were picked up by helicopter and taken to the recovery ship USS Intrepid at 3:28 p.m. EST, where they were found to be in good condition. The Gemini capsule was recovered at 5:03 p.m. EST. Two of the three experiments were performed successfully, the third, sea urchin egg growth in zero-G, was not completed due to a mechanical failure. The photography objective was only partially achieved because of an improper lens on the 16 mm camera. All other mission objectives were achieved.
ref: nssdc.gsfc.nasa.gov
1979
N. Chernykh discovered asteroids #2584 Turkmenia, #3094 Chukokkala, #3128 Obruchev and #3349.
1982
E. Bowell discovered asteroid #2710 Veverka; and Z. Vavrova discovered asteroids #2661 and #2766.
1983
US president Ronald Reagan introduced his Strategic Defense Initiative, commonly known as the "Star Wars" anti-missle plan. A number of peaceful missions were funded by SDI, including the Clementine probe that found evidence of water on the Moon.
ref: en.wikipedia.org
1985
A. Gilmore and P. Kilmartin discovered asteroid #3563.
1996
Died, Zhuang Yuzhi, Chinese metallurgist, developed materials for China's first recoverable satellites
ref: www.astronautix.com
2001 05:58:00 GMT
The Mir space station was deorbited and broke up in the Earth's atmosphere on reentry as planned; the remains landed in the Pacific. (The time of impact is shown here.)
ref: en.wikipedia.org
---
We are going to run out of oil!
Visit SpacePowerNow.org to help fix the problem.
SpacePowerNow.org - For Human Survival
---
Please help support our efforts by shopping from our sponsors.
In affiliation with AllPosters.com
---

This newsletter and its contents are
Copyright © 2006-2023 by The L5 Development Group.  All rights reserved.
 - Publication, in part or in whole, requires previous written permission.
 - Academic or personal-use citations must refer to http://L5Development.com as their source.
Thank you for your cooperation.

---
Space History Department
Resources
The L5 Development Group Home Page
The L5 Development Group Keyword Access System
---
Space History for March 23 / Webmaster / Script last modified August 23, 2018 @ 6:05 am
Copyright © 2006-2023 by The L5 Development Group. All rights reserved. Hosted by FKEinternet