Virtual Space Colony Description

---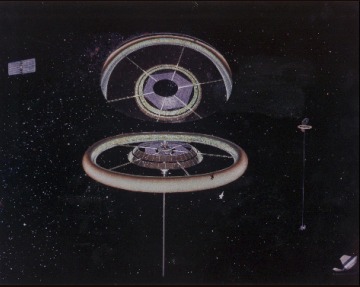 Artist's concept of a Space Colony, circa 1976
Image Courtesy of NASA Ames Research Center
( The artwork is now in NASA archives )
We're going to build a "bicycle wheel" colony, such as is shown above and was discussed in the original version of O'Neill's The High Frontier, as a framework for a city in space. The internal environment will be much like living in a (shopping) mall that's three miles long and a hundred yards wide - and will require a lot less air to fill than a Bernall Sphere with the equivalent "gravity" environment would need. This design will also have considerably less usable area, and therefore a significantly smaller population capacity than other designs would, but our analysis indicates it's a more realistic initial goal.
We enthusiastically welcome comments on our analysis and efforts. A mailing list will be established shortly, so that the discussion can be a public one.
The VRML framework for the colony is presently under construction. Please check back here from time to time to see how it's progressing.
---
If you are interested in building a virtual store, home, or other piece of the colony, please contact us to discuss how to integrate your model with ours.
---
The L5 Development Group Home Page
The L5 Development Group Keyword Access System
---
The L5 Development Group - Virtual Space Colony Description / Webmaster / Last modified July 8, 2005 @ 1:36 pm
Copyright © 2003-2023 by The L5 Development Group. All rights reserved.